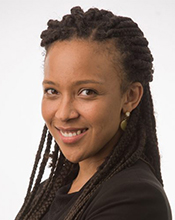 Bridget is a member of the Bloomberg Associates Sustainability team. She works with clients to achieve long and short term sustainability goals through project-based qualitative analysis, geo-mapping, stakeholder engagement and strategic development.
Previously, Bridget was an urban designer and researcher in Los Angeles, CA. She worked with national, state and local governments, non-profits and private institutions in both US and in Haiti, on a large variety of projects designing strategies, spaces and program. Bridget also has experience helping to launch technology start-ups in Ghana and the UK.
Bridget earned a B.A. in Growth and Structure of Cities from Bryn Mawr College where she had the opportunity to conduct research projects on housing in informal settlements in Indonesia and Chile. Bridget later earned a M.S. in City Design and Social Science from the London School of Economics where she studied changes in legacy planning for the 2012 London Olympic Games and led a research project investigating correlations between self-employment trends, urban infrastructure and new immigrant populations in South-east London. She has presented this research at academic conferences and to local and city officials.